As you will probably know if you've read my other film reviews I like to sum up in three words, for Jurassic World it was: bigger, scarier, more teeth bit.ly/1TtSs6J and The Decoy Bride was: sweet, funny, fantastic. For this film though, I think it only needs one word – 'Marvellous'.
The film is about Neil Baldwin, a man who is determined not to be pushed back by the term 'learning difficulties' – a man who sees people how the whole world should see people, as genuinely nice people, happy people, people who care.
With a worrying mum, Gemma Jones in the film, and a past career as Nello the circus clown, Neil starts helping out at Keele University. He welcomes students, wishes them a happy day and becomes a part of university life. In 2013 he was awarded an honorary degree for Student Welfare and he was granted honorary life membership of Keele University Students' Union in 1968.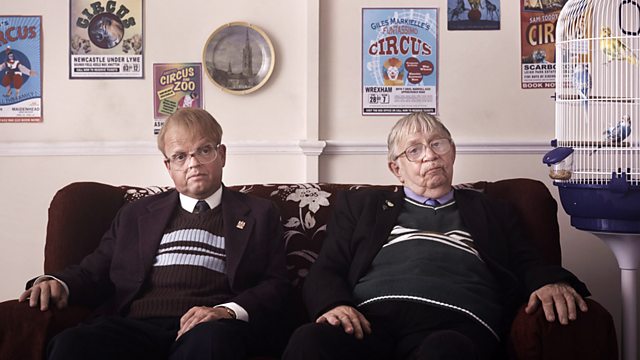 In the film, Neil is played by Toby Jones but over the course of the film, you see Toby talking to the real Neil and to various other people who make up the remarkable life of Neil Baldwin.
He was appointed as Stoke City Football Club's kit-man by the manager Lou Macari in the 1990s. He became their mascot and
a key figure and once at the very end of Macari's career at Stoke City Neil was even allowed onto the pitch to score a goal. In May 2015 Baldwin was awarded "Supporter of the year" by Stoke FC. At Keele, Neil also set up his own team, he has been voted player of the year every season.
He is known to be friends with the Archbishop of Canterbury and footballers Gary Lineker and has spent time with Prince Edward.
Throughout Neil's life, his happiness and thoughtfulness, his attitude to life make his story even more marvellous. He believes in the good of humanity, he does not let 'banter' get him down and he hopes for the best from everyone. I think his message, his story should be known by everyone. The fact that he can get strangers to help, the leader of Stoke City to look out for him and care for him is proof of his good nature and how anyone can achieve anything. A lot of people feel that they can't do something – Neil simply believed that he could.
Definitely, definitely watch it.
Have a wonderful week,
Isabelle
Top photo courtesy of radiotimes.com
Middle photo courtesy of 
bbc.co.uk